Transparency, from Pasture to Plate
pasture raised. corn finished.
Transparency, from Pasture to Plate
pasture raised. corn finished.
quarter, half & whole custom beef
Customize every cut! Choose your steak thickness and roast size, plus select specialty cuts like Brisket, Organ Cuts, Ribs, and more. Shipping now available for all bulk beef harvests! Local butcher pick-up also available.

Get our naturally raised, naturally delicious, ranch raised beef delivered right to your door. Each of our beef boxes is filled with a variety of hand-trimmed, dry aged, cuts of beef for healthy and convenient dinner options.
1/8th, 1/4th & 1/2 shares
Our standard beef shares include all the cuts you'd receive in a typical side of beef and they ship right to your door! The quantity of each cut differs for each share size. Cuts are vacuum-sealed and labeled.
holiday food drive Benefiting rising up morgan county food pantry
Join us in making a meaningful impact on our community this holiday season through our second annual Fill the Freezer holiday food drive! From today to December 20, for every order placed, we're committed to donating 1lb of our premium single-source ground beef to our local food bank, Rising Up Morgan County. Your support, whether you're treating yourself to a box of our delicious beef or sharing it as a thoughtful gift, plays a crucial role in reaching this goal.
63lbs Donated
125lbs Donated
188lbs
Why Choose Christensen Ranch Beef
We believe in transparency, from pasture to plate™.
We believe you should be able to know where your beef was born, how it was raised, and where it was harvested. We're stepping back to the days when beef came from the ranch next door and people were on a first-name basis with their local rancher and butcher. Our goal is to bring transparency to beef production by connecting you directly with your food.
Our cattle roam the expansive Northeastern Colorado plains for nearly one year after calving to ensure they have enough time to grow, naturally. We are committed to following humane handling practices for our herd every step of the way, from calving to processing.
By allowing our cattle to mature on nature's schedule, we're able to give you the perfect amount of marbling in each cut of ranch raised beef with the unmistakable flavor that corn finishing delivers.
Our cattle roam the expansive plains of Eastern Colorado so they grow, naturally, the way nature intended.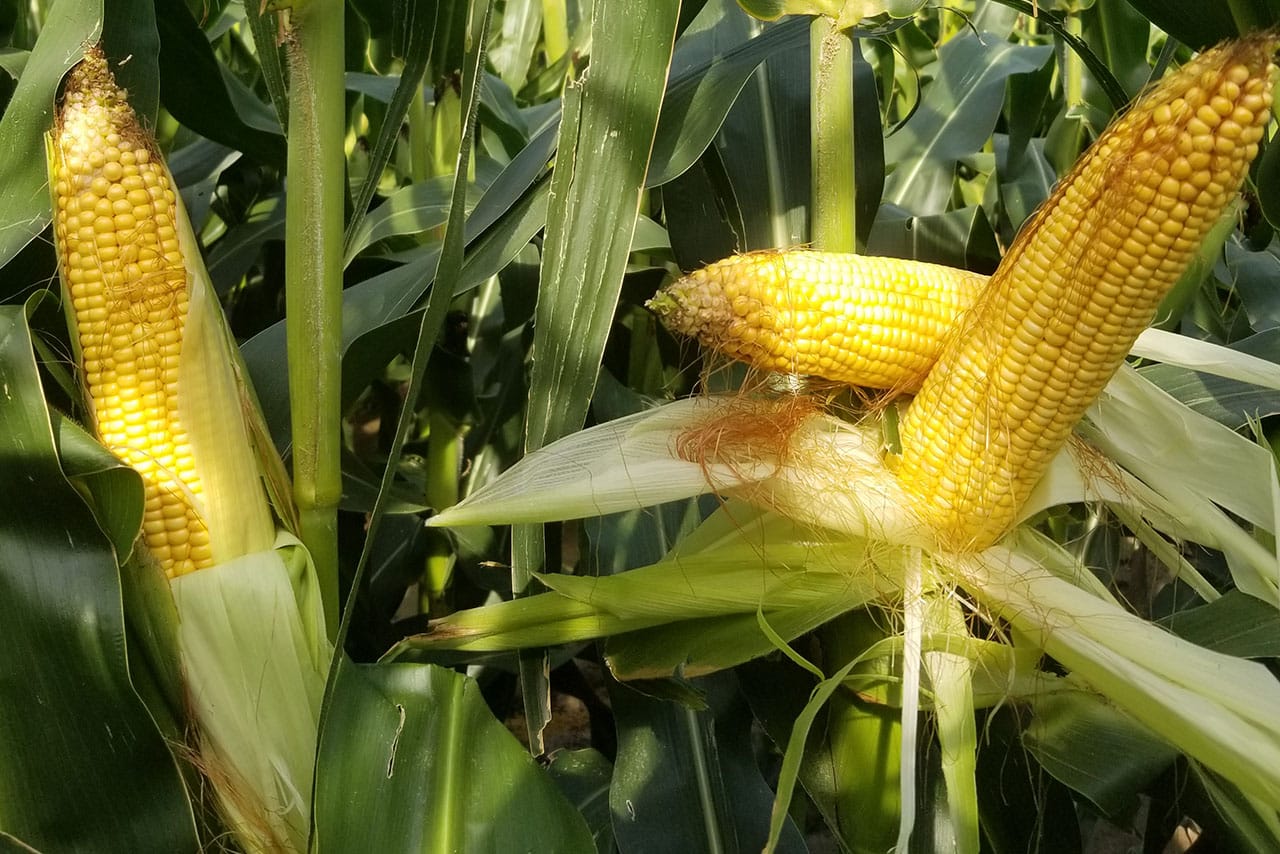 Our cattle are finished on a corn-based diet here on the ranch for the unmistakable classic flavor and marbling corn delivers.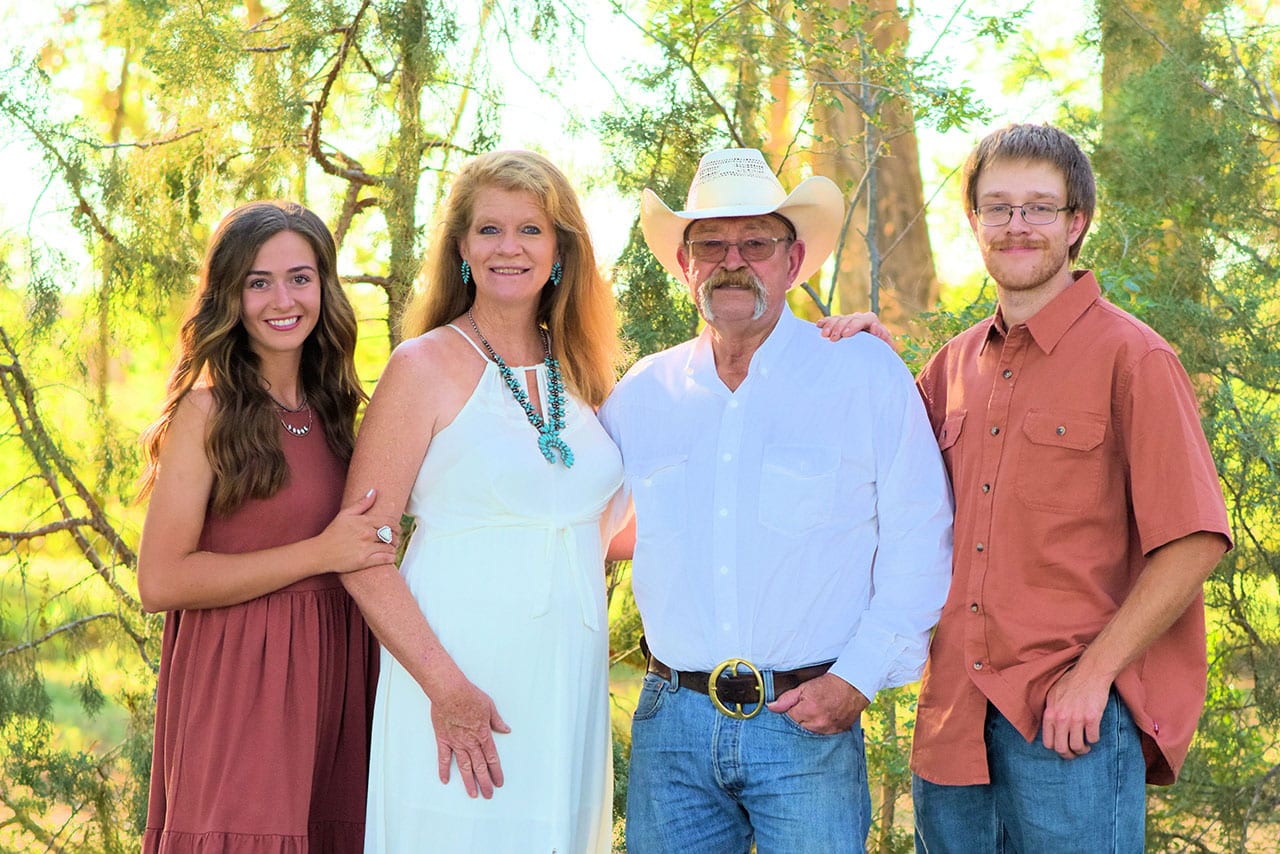 Fourth Generation Ranchers
Our family works hard on our fourth-generation ranch to care for our animals every day to bring you the best tasting beef.
By sharing our life on the ranch, we hope to help you know your ranchers and trust where your beef comes from.
All our ranch raised beef, including our single source ground beef, is dry-aged for robust flavor and melt-in-your-mouth tenderness.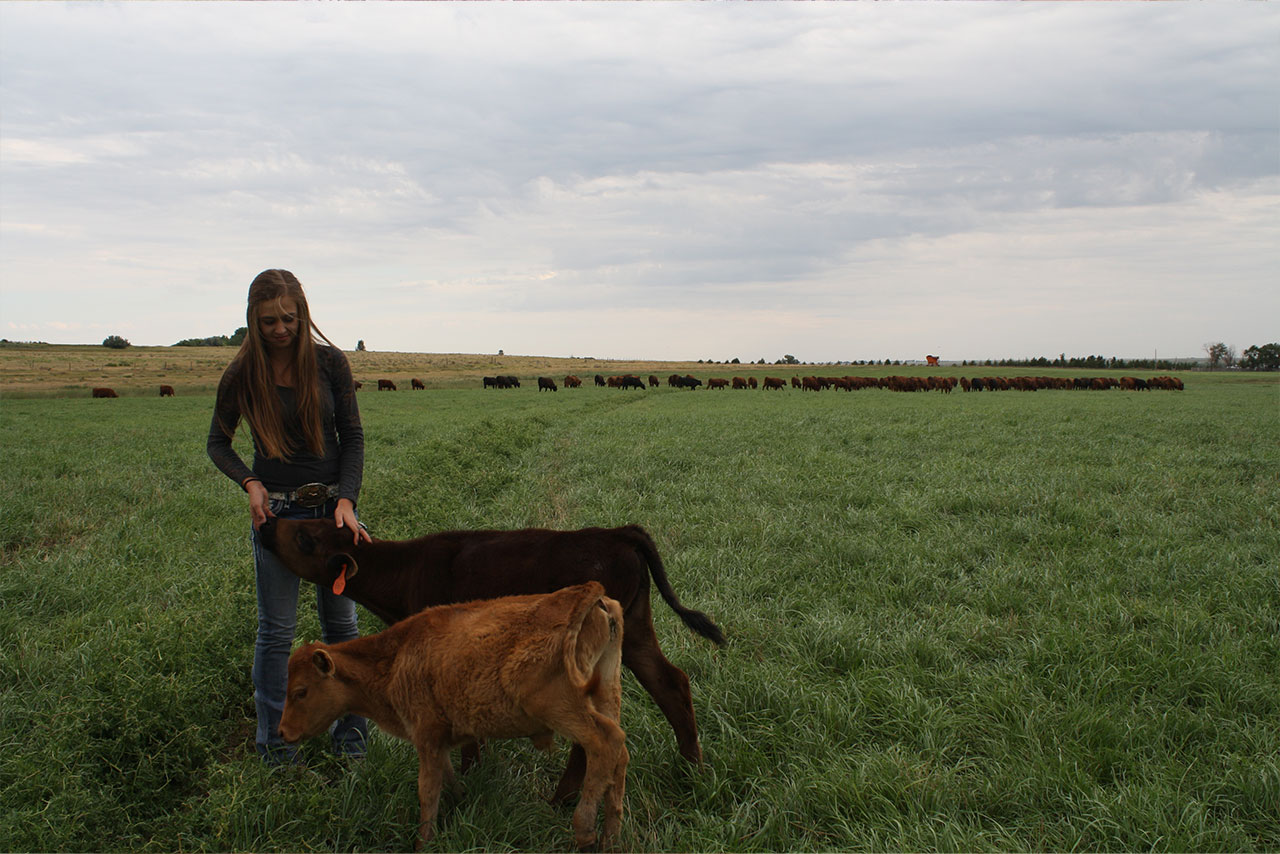 We have the highest regard for every animal in our herd and are committed to raising them humanely, from calving to finishing.
Quarter, Half & Whole Custom Bulk Beef
slots available for our winter harvest
This harvest will be processed by Stagecoach Meat Company. Shipping is available. Payment plans available.
We sell our custom bulk beef on a first-come, first-served basis and encourage you to reserve your beef early so you don't miss out. We require a small deposit to reserve your custom bulk beef.
Current live weight price per pound only $2.35
Our Ranch-Raised Beef Gets Rave Reviews
we think you'll love it, too !
Absolutely the tastiest steak to be found! I received first as a gift & now order directly & enjoy year-round. Special thanks for the rib eyes, not to be missed. They are also my go-to for special gifts. Always a winner! Thanks for great beef & perfect service
Exceptionally well-managed outfit.
I received everything and it all looks fantastic! From the boxes to the note inside and, let's not leave out, how fabulous your product looks!
I only deal with Kathy there at Christensen Ranch, and she has been nothing but informative, kind, and just a pleasant lady to talk to. As far as the beef goes, I couldn't be more satisfied! From the steak to the hamburger, and all the other different cuts, you can tell from one blue collar working family to another like the Christensen family; they put time into their product. I will buy from this family for a long time. Five stars, hands down!
This weekend, I had dinner with neighbors that buy your beef. They barbecued Rib Eye steak and it was, by far, the best steak I have ever eaten.
We have been ordering Christensen Ranch beef for years and are always impressed with the quality and flavor of the meat. We just grilled up another batch of rib eyes that were amazing. We have stopped ordering steaks when we go out to nice restaurants as they are never comparable to Christensen beef.
Purchased half a cow from them. The beef is absolutely amazing and flavorful. Communication was clear and the processor they use was friendly and professional as well. Highly recommend, you won't be disappointed. The only down side we've found so far is that it has ruined going out to a nice steak house for us. This beef is so much better than anything you can get in a restaurant. Grateful to have ranchers like this.
Christensen Ranch is my 'go-to' for beef of any kind. All the things you want in your beef and nothing you don't! The taste can not be beat. They are by far, hands down the best! Compared to grocery store beef, there is no comparison and you are supporting local farmers. You know exactly where your beef is coming from! It's a win-win!! Their steaks and roasts are also wonderful! I have nothing negative to say about them! Their family are always there to help, answer any questions, and are just really great people! Give them a try and I best you switch to them too!
Always excellent beef. We have purchased a half beef and several of the pre-packaged beef assortments. We love this ranch!
Four years ago, I suffered from a broken jaw and have altered my eating habits from steaks to ground beef. In September 2010, my husband and I purchased a quarter beef from Christensen Ranch and had it cut to our specifications. I had a lot of it ground into hamburger and have totally spoiled myself on the best tasting beef I have ever had. The steaks are truly tender, and everything tastes superior to anything around. I highly recommend Christensen Ranch beef.
The meat from Christensen Ranch is a game changer. I first experienced it in Colorado when I lived there, and I am so happy to find out they can ship to me back in California now! The color is dramatically different from the low-quality meat in your grocery stores. Excited for my future meals!
Some of the best beef we've had! Picked up our order last week from Stagecoach Meats, they do a great job of packaging! For the past 2 years we've purchased 1/2's from Christensen Ranch!
We finally grilled the New York Strip steak yesterday and it was AWESOME! We haven't had a steak that was so tender and flavorful since we left Iowa.
You can't ask for any BETTER beef & hard-working family!!! I have ordered beef from them for years the steaks are so tender, and the hamburger is so lean. The website is easy to order and also, I forgot that they have seasonings which are really good!!! Thank you again, Christensen Ranch. Just picked up my meat-can't wait to BBQ that steak!!!
Awesome product and customer service!
The best meat money can buy. I have a picky 2 year old who throws everything and eats sporadically. He went to town on the hamburgers.
Our Father's Day gift box was awesome! The meat is so delicious with great flavor! We loved the beautiful cutting board, and the steak seasoning is wonderful! Thank you Christensen Ranch!
Best beef you'll ever eat!
We have ordered beef on several occasions from them, and it is always a seamless process. The beef is wonderful tasting. Could not recommend them more!
We just had our first steaks from Christensen Ranch. Cooked them on the smoker. They were really good, tender and full of flavor!!
Earlier in the year, I wanted to find a local ranch where I could get quality beef but not at an expensive price but also wanted grass fed. As we all know grass fed can get expensive! I came across this ranch and did some research and decided to order some steaks to see how their quality of beef was before placing an order for a quarter of a cow. One thing to note for all who read this is majority of the cows life, they are fed grass until towards the end of life and then they feed them corn. However, they do not use antibiotics or any of that harmful stuff to humans but also to their cows! This doesn't impact the taste at all. In fact, if it were not mentioned on their website, a consumer really wouldn't know unless they used a spy camera. This ranch is 100% completely transparent with their customers.
Christensen beef is by far the best for your buck . You can really tell that they do it right by taking their time, and the excellent care from birth to table. The steaks are so tender and juicy , mouthwatering . Loved the fact I could get my burger in 1.5lb packages. Five stars highly recommended. Thank you, Christensen Ranch.
We received our first package yesterday and my wife made stuffed bell peppers with one of the ground beef packets. Delicious beyond belief!!!! Today she made us hamburger sandwiches with the patties that were another item in our package. Your beef is just what we have been craving for years! She wants me to grill the two ribeye steaks tomorrow evening and I just can't wait! So glad we came across your website as we were searching for a Colorado alternative to the other sources (which we will no longer be using) for our specialty cuts of beef. Thank you, Christensen Family, we will be ordering more soon. God Bless you!
I've been doing business with Christensen Ranch for years. Their beef is excellent in flavor. I can purchase a special order of whole, half, or quarter - plus how thick or how many pounds you want with any other special instructions you need to let them know. I also know that they care for their cows and feed them natural ingredients no hormones that I am aware of. Great people to work with and buy my beef from.
I have been a consumer and customer of Christensen Ranch beef for 20 years. I can honestly say that their product is the best tasting beef that has ever hit my grill and my dinner plate. Give them a try and I am positive you will be a repeat customer like myself!
We purchased a quarter side earlier this year and just can't get over how good everything tastes! I'm old enough to remember beef tasting like this when I was a kid. We intend to purchase another quarter side when we need it and because the beef is so good, we purchased a rib roast for the holiday season! Thank you for providing excellent quality beef that tastes fantastic!
Best beef ever! Very Convenient.
Incredible cuts of beef from their box orders delivered to my door step, to picking up a quarter of bulk beef, Christensen Ranch's is the real deal!
You can't buy better quality meat, and the service is outstanding.
Fantastic beef, two years in a row. The process is easy, the beef is amazing, and Mike's Meat Market did a great job.
You can always count on the quality of the beef. This is our third year with Christensen Ranch. I always get my product fully frozen. Our only source of beef!
Well worth the money as it is so tasty. Excellent.
We've been a customer for a couple of years now and always enjoy the fine quality of beef that we receive! On occasion we run out of ground beef and are forced to buy from brand x (super markets) while we await our next Christensen order and can only say "yuk" to the processed taste that comes from it. Every cut of beef that we have received is delicious and we will continue to order from you, so thank you Christensen and Wood families for continuing to supply great tasting beef!!
We received a delicious gift of Christensen Ranch beef from Eric and Jodi after meeting on a cruise over the holidays. It was our favorite gift of the season! The steaks have been so juicy and flavorful, unlike any steaks we've had from the grocery store or steakhouse. Amazing family and amazing beef!
Great beef! Tender, best flavor. We get so many compliments when we have guests coming over for lunch or dinner. We shared some of our beef with our family and they all appreciate and love this beef. We both grew up on farms in Iowa and this brings back great memories.
Definitely decided to order a quarter of a cow. While we were waiting for our meat to go to the butchers and for the butcher to call us, we decided to try their beef jerky. I'm a huge fan of beef jerky! It's hard to find quality meat for a snack that isn't dried up. This ranch has found the perfect recipe for their beef jerky! Omg it's so delicious and tender. Not tough at all! Some companies get beef jerky either way to dehydrated to where it's just chewy or still wet where your mouth is left wet (hard to explain if you've never come across it). My family is picky about beef jerky however, we've found a gold mine! We've shared with people that we know and immediately they ask where they can buy it.
Excellent tasting beef and a fair price. Highly recommend. Support the Ranchers!!
Best beef ever! Ordering is super easy and customizable. I have ordered multiple times and the entire process is fantastic. The butcher they chose to use is friendly and treats you better than family. Don't pass up this meat and supporting a great family.
Excellent beef and quick delivery.
We got a call from the butcher (it's a different company who works along with this ranch - they partner with several different butcher companies either here in CO or WY). The whole process was easy and hassle free! The people at Christensen Ranch are nice and wonderful people! I'm more than happy to support our local ranchers rather than big producing meat factory! When you order from Christensen Ranch, you get quality meat at not an expensive price tag, without all the harmful stuff, and you also get transparency from them! Please support your local ranches/farms.
We order a quarter cow every year from Christensen Ranch. From my research their pricing is great as you are getting family raised, natural, non-antibiotic, non-growth enhancing hormone, pasture raised Red Angus beef! The first time we purchased a cow, we couldn't believe the flavor difference from you get at the supermarket! I would highly recommend using Christensen Ranch!
Great service and great product, I only hope more people will support the independent ranchers and farmers,
We sent your beef to family in Texas, and they raved! Guess everything is not better in Texas! Thank you Christensen Ranch!
This is the second beef we've bought from Christensen Ranch. We have not had a bad piece of meat yet. Great place to deal with. Thank you Christensen Ranch.
We received our first order yesterday and are so excited to fire up the grill. Everything looks great. The entire process you all have in place is very good, from ordering online to the communication from emails and shipment tracking and the packaging.
Loved our meat bundle! Thanks again!
We have been ordering from them since 2007 - it's delicious! Thank you, Kathy, and the whole Christensen Ranch team!
My order arrived in perfect condition, still partially frozen and looks great! Love the looks of the brisket; very nice size.
We have tried the meat twice since delivery and it is delicious! We will definitely be back. Thanks again.
We have been getting one quarter of a beef a year from Christensen Ranch for over ten years. It lasts us a year. The meat is excellent, and the process is so easy, We pay the deposit and then pick it up in Wiggins when it is ready. It's nice to have a full freezer of options.
Great quality beef; our bulk beef order was processed correctly to our specs and in a timely manner.
I just wanted to thank you all, the meat is so awesome! Sure beats what's in the stores.
We were both born and raised in Colorado. Over the years we have had the opportunity to try many beef products from different sources. Without any doubt what we have received from the Christensen's is the very best. You would have to pay a larger sum to receive the same quality. The meat is very tasty and tender. Don't hesitate to enjoy their beef.
What an amazing experience! The whole thing! Christensen Ranch is wonderful to work with and has the best beef! Thank you for everything!
OK, our prime rib was unequivocally amazing!!! God bless you guys in the name of Jesus. Amen!! Wow!!!
FANTASTIC gifts or just for you! I have ordered many times as gifts for the holidays, wedding gifts, and for myself. Website is awesome with great options/pictures of products, customer service is fabulous and the products are AMAZING. You cannot go wrong with Christensen Ranch!!
Just wanted to say thank you for the order. We all really enjoyed the meat. Everyone loved the hamburger patties and the sausages (bratwurst). I also really liked the steak. Will definitely re-use your service and recommend it to friends.
Such an easy process; friendly folks to help; and the meat, OMG!!! Thank you to everyone at Christensen Ranch. We look forward to the next purchase.
I've ordered several boxes as gifts and for my family. The perfect gift--easy to order and everyone loves it.
Christensen Ranch beef is hands down the best beef I've tasted! I've ordered several times from Christensen Ranch, and because they have delivered a quality product every time, I expect to be a customer for a long time to come. Thanks Christensen Ranch!
We wanted to thank you for the amazing beef order. We're thrilled with the quality of the meat! God bless you all. Once we're through this order we'll be back for more.
We have ordered bulk beef from Christensen Ranch for many years now and love having a freezer full of meat. I ordered the King of the Smoker box on Friday and got amazing high-quality beef delivered right to my door today. I highly recommend Christensen Ranch.
Our beef box arrived yesterday. It came in an ice chest packed with dry ice and everything was still frozen solid. We have only had the one steak, but boy was it delicious. Besides that there is a lot to be said about buying meat straight from the rancher. It tastes better and is healthier than the meat you buy in the grocery store that is probably imported from China. We will definitely be ordering again.
Great family run ranch provides delicious high quality products and great customer service.
Picked up my first quarter Red Angus from Christensen Ranch this month and want to share how happy my family is with this beef. This was a great quality and quantity purchase. The burger and roasts are top shelf. The steaks are wonderful. Five star recommendation!
Great family, great beef, and great service!!
The very best beef we have ever had, and wonderful people to work with!
I ordered a half cow to split between a friend and I and I have not been disappointed. The meat has great marbling and an excellent flavor, I've also been introduced to some new cuts that I now love. I look forward to ordering from Christensen Ranch in the future.
Fresh grass-fed local Colorado beef--what could be better? We've loved their steaks, brisket, roast, and ground beef. We'll never buy from the store again!
Beef is so excellent - have never had a bad cut yet. Always wonderful top-notch taste. Incredible difference from grocery store product and very good value. Shipping couldn't be more convenient. Thanks so much for providing my family with such a terrific product!
Christensen Ranch has the very cleanest beef I have ever tasted. I have had chemical free beef at relatives homes in Colorado who have their own cattle and Christensen's is right there with them. The beef is pink not dark red. It is the color of veal. Fresh and clean to the palate. My family and friends all over New York and Rhode Island now love their beef as well. I am so grateful for the ability to send healthy food gifts all year long from Christensen Ranch to those I love! Thank you for all your hard work at Christensen Ranch!
Thanks for the Pepper Sticks. Very thoughtful, generous (and prudent) of you. Your packages of beef have been a big hit with two of my grandkids, now with their own children, who at times host family who come to stay for a few days. I like to help them have meal options on hand to make it easier on Natalie and Alana. Thanks again.
When purchasing meal kits, I never order the steaks because I rely only on Christensen Ranch beef. The same goes for eating out or shopping at the grocery store. Nothing beats it.
Quality meat at a great price. I would highly recommend buying in bulk and storing. The high quality vacuum-sealed packaging provided helps preserve the meat for months.
We knew the first time that we found a goldmine. They treated us like family and the product has been great. This is the first time we have gone directly to the source, and we will go nowhere else. Now, we have convinced our extended family to buy meat in bulk. It is nice that they are big patriots, and we share many of the same values. Thank you, Christensen Ranch.
Just a short note to tell you that all your beef is the best we've had in a very long time. Thank you for taking the time to do it right.